I was infuriated...no wait, inspired (yea, that's it) to write this post after reading Hemant Mehta's post, Too Soon to Learn About Santa Claus, over at his awesome Friendly Atheist site.
Since becoming a parent, I have discovered a whole "movement" of people who believe that telling your child about Santa Claus is akin to lying to them and, in essence, is a horrible thing to do. They believe that you should tell your child the honest truth about where the presents come from so they know that there is no such thing as being rewarded for gifts and that they work hard to give them said gift. It is also believed that children will grow up not resenting their parents for "lying" to them about Santa.
I hate this notion. Childhood is about harvesting the imagination, nurturing it, and letting grow. Telling stories about a magical being that comes at night and delivers presents to everyone all over the world is not lying to them. It gives children a sense of wonder and magic and goodness. They have a whole lifetime of being cynical, cranky, old people. Giving them a few years with Santa Claus isn't going to kill them. Santa is just a part of childhood, like peeing in your pants, skinned knees, your first kiss, and your first heartbreak.
On top of this, as an Atheist family, we get so much flack from fellow Atheists (and religious people alike) because we're the family with Christmas decorations and Santa, like we're supposed to NOT have any sort of imagination and make believe in our lives because we don't believe in god, gods, or any sort of creative force. No, we should celebrate Math Day or Rational Thinking Day instead. Sure, those could be interesting, but tell me what 4 year old would rather spend a day talking about integers and fractions instead of making wishes and lists for a magical fat man who promises treats and goodies for all the good little boys and girls?
We don't ascribe any religious significance to Santa and Christmas, and no one ever told me that growing up and celebrating a non-religious Christmas was "atheist illegal" why start now? And I never resented my parents for "lying" to me about Santa. What's the harm in letting your children BE CHILDREN?
No one has ever died in the name of Santa. There's no dogma in Santa Claus, or the Easter Bunny, Tooth Fairy, Harry Potter, Star Wars Universe (wait...there may be some weird pseudo/religious dogma-ish thingie there with The Force and the whole Medichlorons or whatever they're called hoodads), but I digress. There is a huge difference, at least in my opinion, in telling your children that Santa Claus resides at the North Pole with elves and makes toys and telling them that there is an omnipotent "creator" in the sky waiting to pass judgement and smite you down if you don't cater to his every whim and follow certain "rules" written in a book by primitive desert people some two thousand years ago.
BIG DIFFERENCE.
Santa doesn't pass legislation prohibiting same-sex couples to marry. Santa doesn't pull a trigger on a sniper rifle outside of an abortion clinic. Santa doesn't blow up buildings with airplanes. Santa doesn't chop off limbs with machetes. Santa doesn't make women subservient by covering them from head to toe. Santa doesn't carry "god hates fags" posters. Santa doesn't diddle little boys for decades and then have Mrs. Claus over at the North Pole try and cover it up and then say it was all a "misunderstanding" and "exaggeration". Santa doesn't do any of this bullshit! He brings presents and is fat and jolly!!!
And true, while I have highlighted some of the more "icky" aspects of dogma and religion, I know that those things aren't representative of different faiths people choose to follow. But, punch me in the face if they're not slightly becoming the "norm" in our society, eh?
So what's wrong with a little magic and pretend? Dante has an imaginary Balverine friend who comes to visit. (Note: A Balverine is a wolfman-like creature from the Fable 2 video game and looks something like this: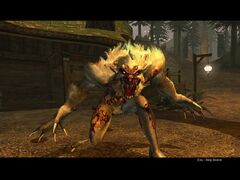 but the Balverine is a Friend Balverine and doesn't want to eat us).
Anyhow, do I quash my kid's imagination and tell him he's talking to air? Do I tell him he's not, in fact, Captain Jack Sparrow and the bathtub is not The Black Pearl? Do I tell him that we are not actually sword fighting with chop sticks and are not Medieval Knights?
What do you think I do?