First things first. Whoever coined the term "terrible twos" needs a swift kick in the face. The twos aren't "terrible". "Terrible" is a cutsey word that reminds me of something in a Maurice Sendak book, or the sound of the Heffalump in a Winnie-th-Pooh book, or something that Alice would mutter as she's falling down the rabbit hole. "Terrible" is
certainly not
the correct adjective for describing the dispostion of a two-year old.
Here are some words that I think would be better suited: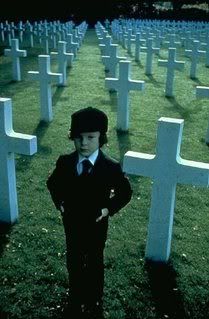 possessed
demonic
incorrigible
obstinate
intolerable
cancerous
exhausting
debilitating
dumbfounding
fucking ridiculous
See? "Terrible" is such a wimpy word. It's as though whoever coined it had a child who wouldn't eat their peas and then went to bed ten minutes later. "Oh look", they probably said, "Miffy is being terribly awful and she shan't have dessert". Yea. Dessert this, and here's a shovel to your face.

Let me elaborate:
What was once this precious little lima bean of a baby boy has become this grouchy, grumpy, satan spawn from the pit of Hades who says "no" every other word, runs about the house screaming and breaking things, has developed selective hearing especially when he's smearing yogurt all over himself and the floor, who cries and stomps and screams if he doesn't get his way, who pouts and kicks, and hits (yes, he hits despite the fact that no one in this house has ever raised a hand in anger toward him...well except for that one time he broke free from me and ran into the middle of the street and he got a potch on his rear). As a matter of fact, he's throwing a tantrum right now as a type this because I won't let him play with the telephone cord and a pair of scissors. Yes, I know, I'm a horrible mother because I won't let him play with scissors. At least, that's what he thinks at the moment. Oh look, now he's thrown himself on the floor and is screaming "right now" at me as though that would suddenly make me say, "Oh, the scissors! Sure go ahead".

Fat chance kiddo.

Now he's screaming at Randy because he wants to be pushed around the house in one of our office chairs and Randy, having worked all day on his feet, wants to sit and relax before dinner. "More Daddy! Right now!" are the melodious sounds I am currently hearing from the living room and my poor husband sighing after each scream.

Where the hell is that cute kid I gave birth to? Where did that curious infant and toddler go who was just learning words and how to walk and would take in everything we said and did and think we were the coolest things ever? No, now we have Mr. Yelly McYellerton who throws tantrums. We have Mr. I Will Make You Want to Rip Your Hair Out every ten seconds with my incessant whining (which I totally blame on that STUPID FUCKING idiot show Caillou that I made the mistake of letting him watch one morning while I took a shower where the kids whines every six seconds about crap).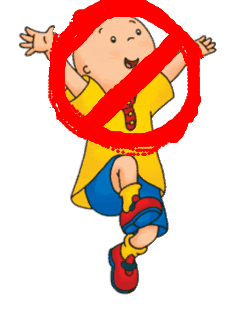 They say three is worse. I don't think I'm going to make it.