I've always been the nerd who pushed herself to the limit when it came to grades and school. If someone got a 97 on a test, I needed to be the one who got a 98. Unfortunately, sometimes having a high score isn't always the best thing in the world.
Case in point, my thyroid. I was diagnosed with Hashimoto's Disease/hypothyroidism four years ago while having trouble conceiving our second child. Basically, it means that your thyroid doesn't produce enough hormones to balance your body and metabolism. For four years now, I've been on medication to regulate it but, if you've read my recent blogs here and there, I've been feeling really shitty as of late between the weight gain, surgery, and pain. And thus, I went to the doctor who I screamed about in my last blog and had blood work done. In keeping with her "I don't give a shit" manner, when the results came in, her nurse informed me that my Thyroid Stimulating Hormone (TSH) levels were "high" and that I needed to go back to my endocrinologist. I already had an appointment with my endo for the 21st of August so I didn't think to worry. On a whim today, I decided to look up my lab results on my patient profile online. The results of my TSH screen floored me and further validated my feelings that doctors today could give two shits about you.
The results were as follows: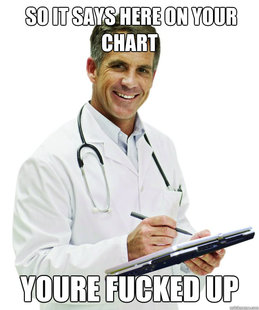 10.71 people. My thyroid is simply a decorative accessory or lazy motherfucker that just sits there and does nothing. EVERYTHING I have been doing to lose weight, to feel better, to alleviate this pain has been pretty much for naught.
So, on a whim, I decided to look up the symptoms of hypothyroidism. I mean, I know I already have it, but I just wanted to refresh my memory. Remember, I've been dealing with this crap for 4 years. So here are the symptoms (with my commentary).
Fatigue

(I'm a mother. This is a given for anyone of us.)

Increased sensitivity to cold

(I live in Florida. "Cold" is 72 degrees)

Constipation

(I eat so much salad and leafy greens that the toilet is my best friend)

Dry skin

(Yep. Me and lotion are like "this".)

Unexplained weight gain

(Well, when I was pregnant, I could explain it. Now? Not so much)

Puffy face

(That pretty much goes hand in hand with being a big fatass)

Hoarseness

(This one is true as well. I've found it hard to talk sometimes, feeling like I'm pushing the words out of my throat. I sound like a skvitchery old lady)

Muscle weakness

(Let's just say that I cannot star in "Over the Top" at any point)

Elevated blood cholesterol level

(I was told my cholesterol was "high" by the "caring doctor")

Muscle aches, tenderness and stiffness

(No comment)

Pain, stiffness or swelling in your joints

(Really, no comment)

Heavier than normal or irregular menstrual periods

(When my period decides to show up, every six months or so, it's like a fucking episode of Dexter down there)

Thinning hair

(Yep, and no amount of Garnier Fructis Volume Enhance will change that)

Slowed heart rate

(Probably but I'm not sur.........zzzzzzzzzzzzzzzzzzzz)

Depression

(I don't need a fancy named thyroid problem to be depressed, baby)

Impaired memory

(Huh? Wait? Where am I? What is this place?)
I'm no doctor (although I think I have more compassion than some), but I'm guessing that all of this bullshit I am going through is related to this 10.71 TSH level. You think?

Hope to get some answers soon. But really, 10.71 TSH and your nurse simply says "it's high"? Epic fail.